Case Study
OnePlus Operating System Overview
Shaping the Future of Mobile Experience: Leading OnePlus OS from Strategy to Agile Execution
OnePlus OS 7.0 ( Android 13.0)
Discover a revolutionary mobile experience as you delve into the world of OnePlus OxygenOS. This groundbreaking operating system transcends the ordinary, blending seamless functionality, sleek design, and unparalleled customization to empower users with a truly transformative smartphone experience. With its intuitive interface, lightning-fast performance, and unwavering commitment to user feedback, OxygenOS sets a new standard for what a mobile operating system can achieve. Unleash the full potential of your device and witness the future of mobile technology unfold before your eyes.

Platform
Mobile, Foldable Phones, Pad/Tablet, Earbuds, Watch
Role
Led OnePlus OS Product Design from generation 1.0 to 5.0
Oversee and provide thought leadership

Product strategy and roadmapping
User behavior research and analysis
Operating system concepting
Experience design
Coach team and leadership team to shift from waterfall to agile development.

Attract, recruit and retain product talent to build global and dynamic team.
Outcomes
9.2
The highest overall satisfaction with PCMag readers
4.2
NPS (from 2.3 to 4.2)
Awards & Recognition
1.3M views




The newest version of OnePlus OS is faster, smoother, and smarter than ever before, with new features designed to make one-handed operation easier and more intuitive.


Product roadmap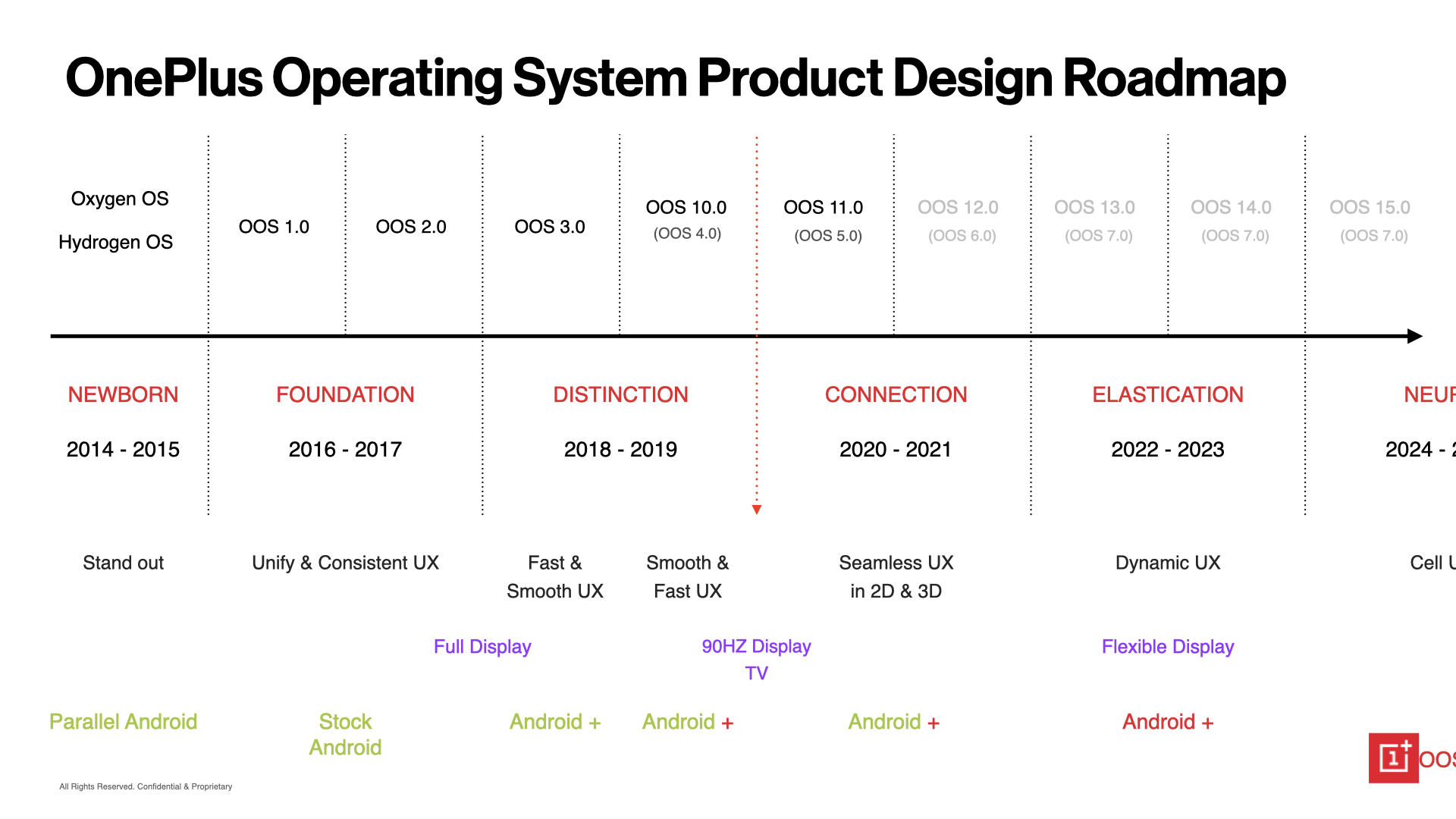 Operating System Iterations from 2016 to 2021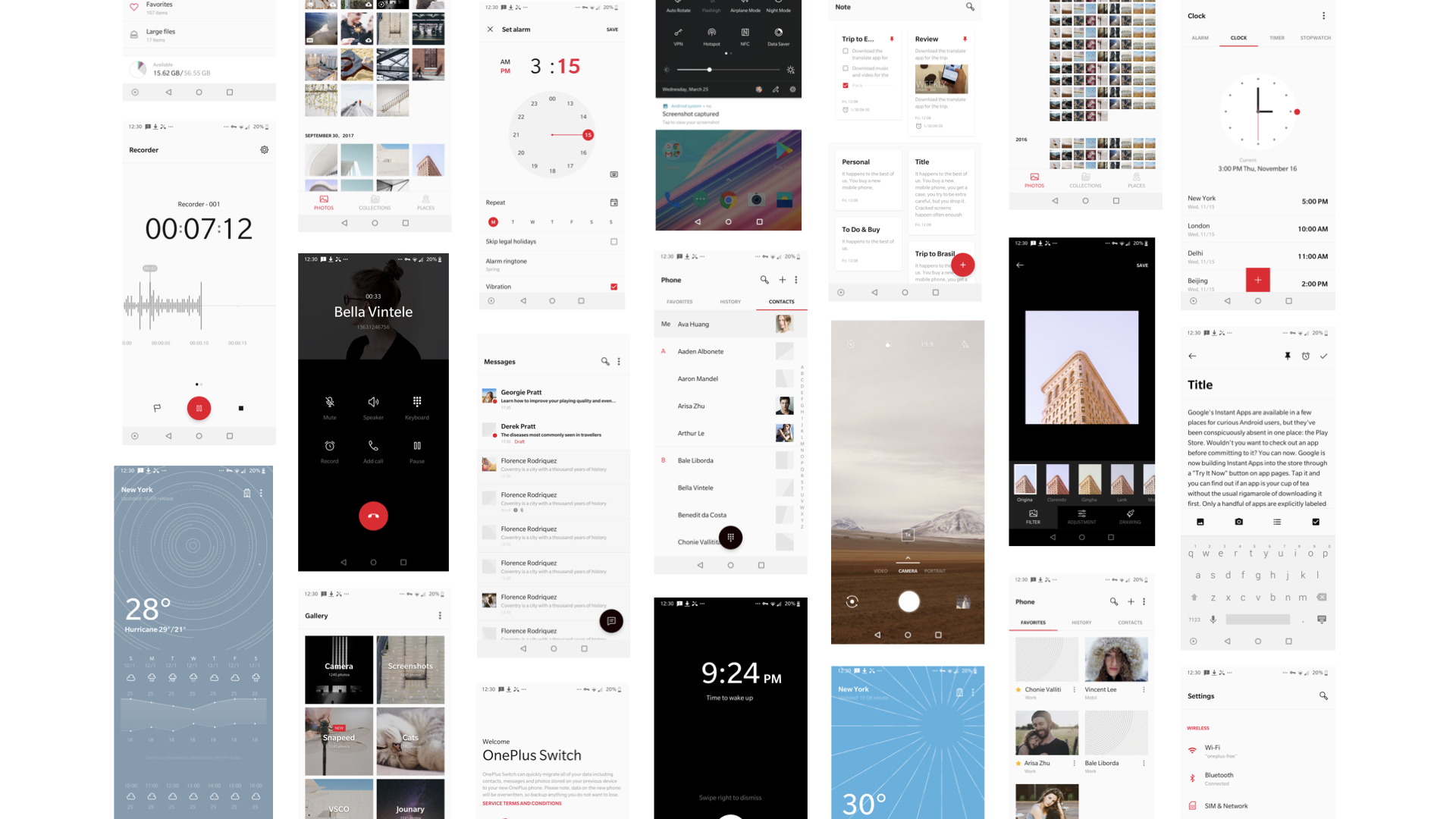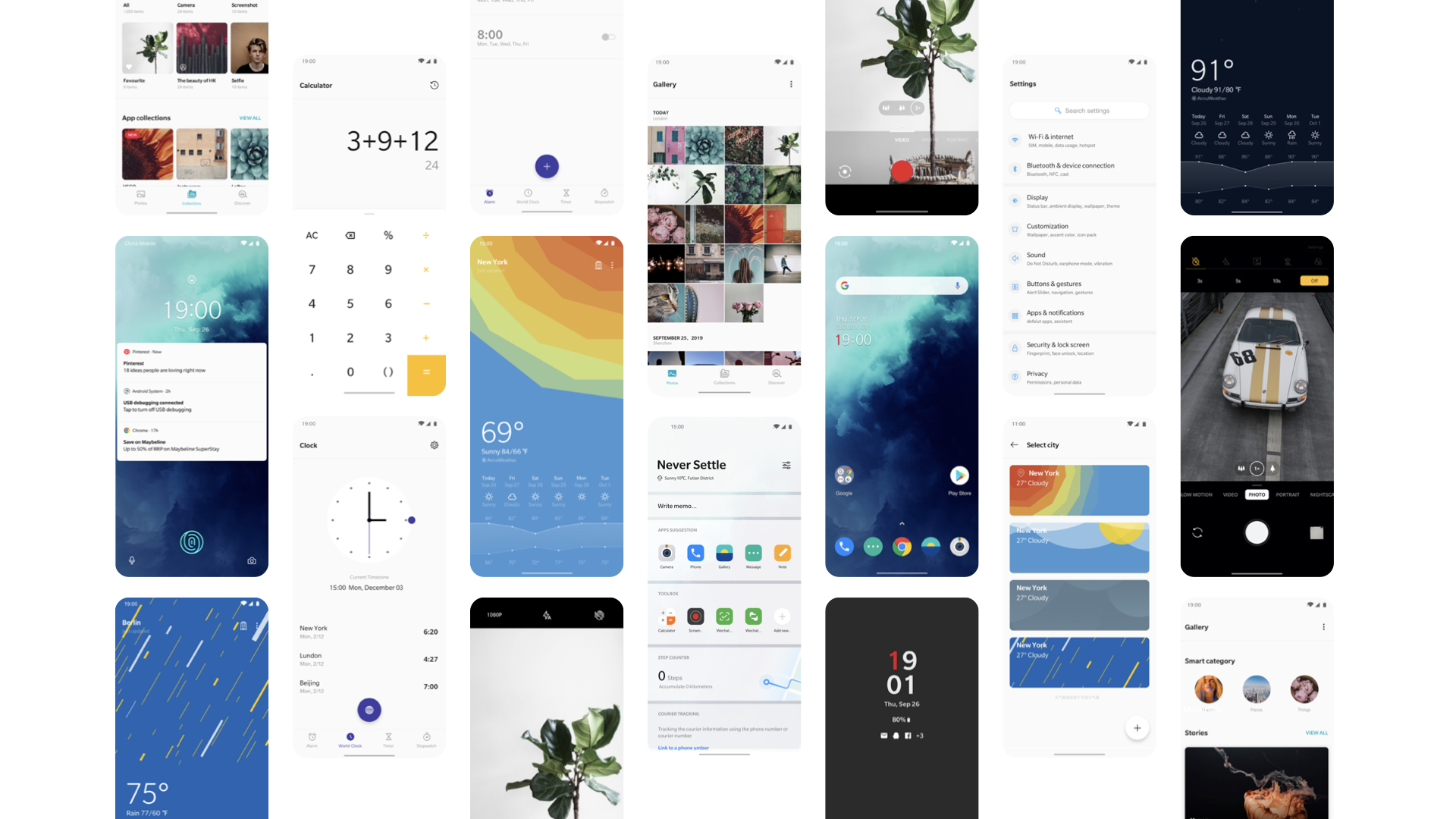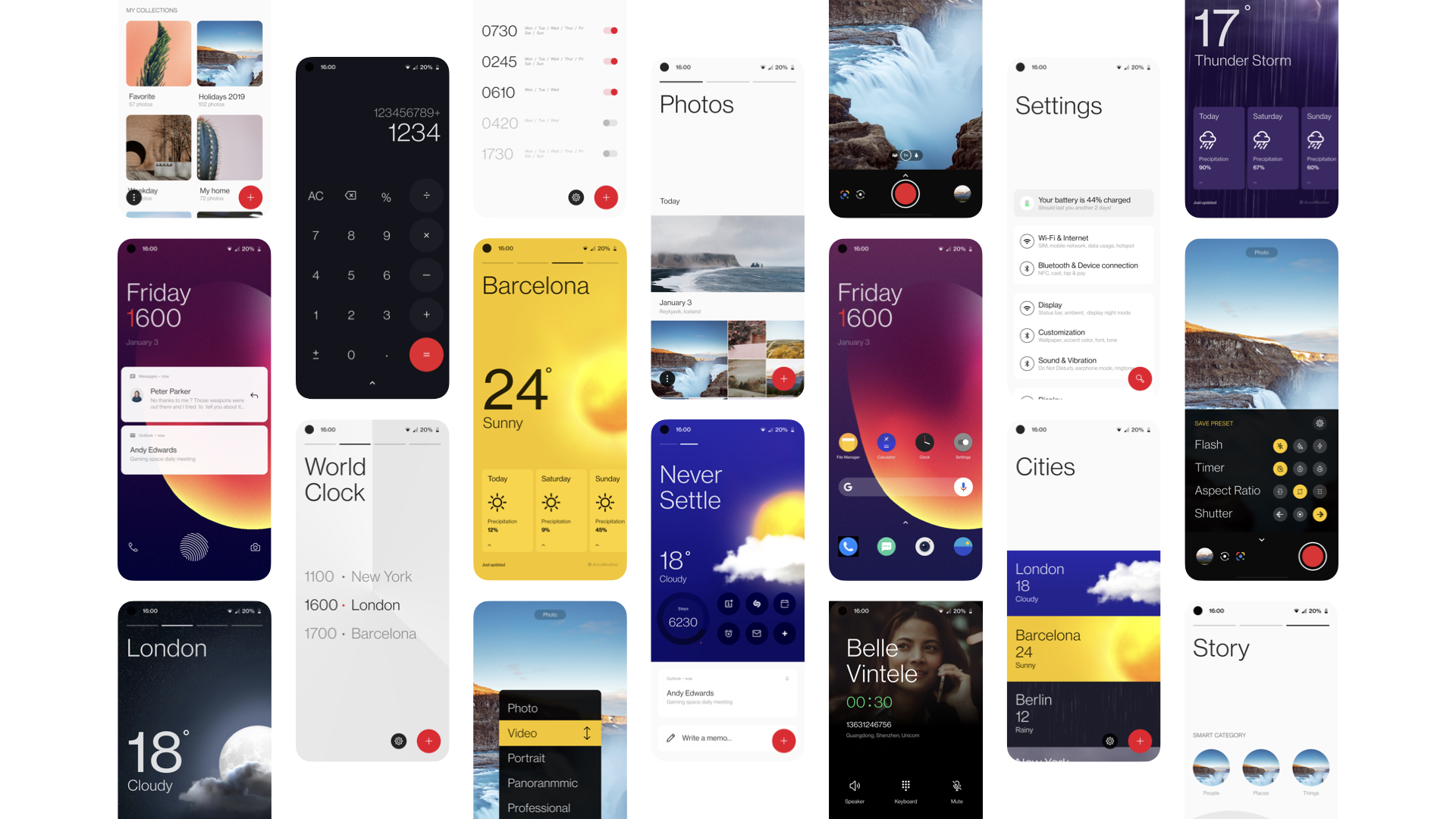 Product Design Process
Define Business Objectives: Understand the high-level goals the business aims to achieve, such as market penetration, user engagement, or revenue growth.
Market Research: Identify target markets, trend, customer personas, and market gaps to align product design with market demands, and collect feedback from target regions (NA, EU, and Inida).
Stakeholder Alignment: Organize workshops to ensure that business executives, product managers, and design teams, engineers are aligned on business objectives and product goals.

Competitive Analysis: Review competitor products to identify strengths, weaknesses, opportunities, and threats.
User Research: Conduct interviews, surveys, and observations to understand user needs, pain points, and behaviors.
Ideation & Brainstorming: Generate multiple design concepts and solutions. This can involve techniques such as sketching, storyboarding, or mind-mapping.
Product Strategy & Roadmapping: Develop a plan outlining design deliverables, timelines, and resource allocation.
Key Screen Mockup: Carefully select pivotal screens from each apps, and integrate them seamlessly into the new operating system design

Prototyping: Create low-fidelity and high-fidelity prototypes to visualize the design and layout.
User Testing: Test the prototypes with real users to gather feedback and validate the design decisions.
Iteration: Make revisions and improvements based on user feedback and testing results.
Design System Upgrade: Utilizing the framework of the new operating system, enhance and refine the design components within our existing design system

Technical Feasibility Assessment: Check with engineers and developers to ensure that the design is technically implementable within constraints.
Design Handoff: Deliver the final designs, along with assets and documentation, to the development team for implementation.
Quality Assurance: Participate in the QA process to make sure the final product aligns with the design vision.
Launch & Monitor: After launch, use analytics and metrics to monitor user behavior and determine if business objectives are being met.
Post-Launch Iterations: Make any necessary updates or refinements based on real-world performance and user feedback.
Review & Learning: Conduct a retrospective review to assess what went well, what could be improved, and how closely the project met the original business objectives.
---
OnePlus OS 6.0 ( Android 12.0)

OnePlus 5.0 represents a significant upgrade aligned with our company strategy to engage Gen Z users. We began by identifying user traits and pain points, extracting valuable insights that ultimately shaped the final look and feel of the upgrade.


---
OnePlus OS 5.0 ( Android 11.0)

After the release of OnePlus OS 3.0, we received an overwhelming amount of positive user feedback and press coverage, which led to invitations for me to speak at various design conferences about my leadership in designing the successful next-generation OS. However, some users expressed that the OS felt too plain and lacking in emotion. Taking their feedback into consideration, we incorporated the principle of adding 20% emotion into the next iteration of the OS, aligning it with the existing principles of simplicity, directness, and space.


---
OnePlus OS 4.0 ( Android 10.0)


After two years of foundation improvements, we embarked on creating a distinct and recognizable OS, differentiating it from other operating systems on 2018. We employed three design principles: 1. Flat and Minimal 2. Reduction 3. Bold and Clean to shape the next generation of our OS, which included reducing color and type sizes, enhancing focus through white space, refining the usage of red for key interactions and moments, and exploring various icon styles.


---
---
OnePlus OS 3.0 ( Android 9.0)


After merging two operating systems into one, we dedicated significant time to enhancing the foundation of our operating system, focusing on speed, stability, and efficiency on 2017. Throughout this process, we actively gathered user feedback, and one recurring theme was that users perceived our OS as being too passive. In response, we made an adjustment by increasing the overall brightness by 20%, resulting in users feeling a more positive experience when using our platform.


---
OnePlus OS 2.0 ( Android 8.0)


In 2016, I successfully unified OxygenOS and HydrogenOS into OnePlus OS, incorporating the design principles of flat, depth, and motion. This was achieved alongside the implementation of an agile development process, ensuring a globally consistent user experience while adapting to local cultures and user behaviors. To achieve this, I collaborated with my team to align and refine Google Stock Android, resulting in a customized and enhanced user experience. Furthermore, our user research conducted in the USA, EU, and India played a significant role in shaping OnePlus' distinctive user experience.


---
Recommendation from my partners