Case Study
IBM Mobile FIrst
Shaping the future of enterprise mobility by creating the IBM MobileFirst website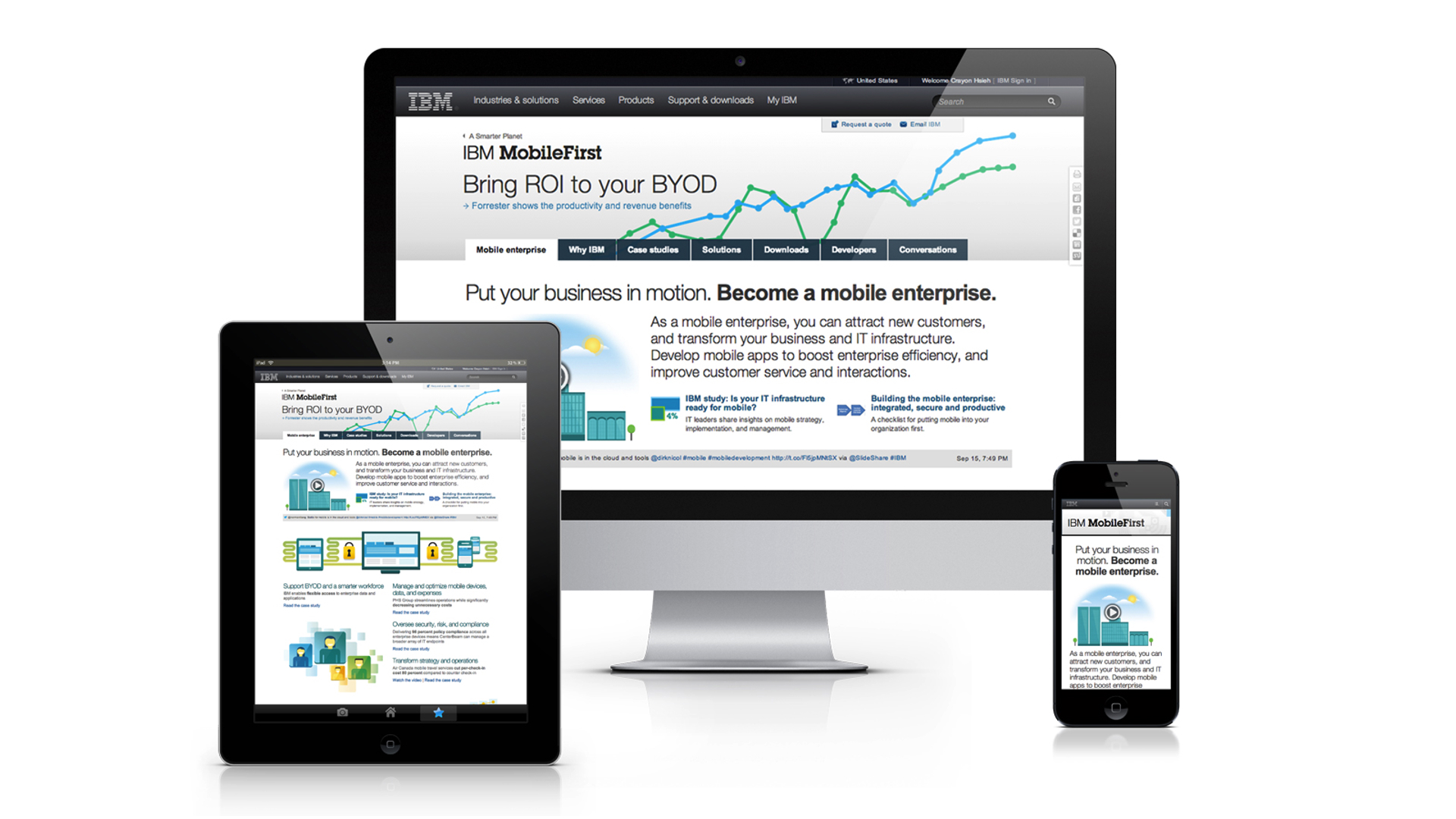 IBM recognizes that the true potential lies in transforming organizations into mobile enterprises, going beyond accommodating mobile technologies for competition. Leveraging consulting expertise, patented technologies, and strategic acquisitions, IBM offers a comprehensive suite of end-to-end products and services. Despite being a newcomer compared to competitors like SAP, we address enterprise-level mobility barriers, focusing on issues and needs faced by different roles. Working with stakeholders and cross-functional teams at IBM Design Lab, we rebranded IBM Mobile Enterprise to IBM MobileFirst and launched a supporting website during Mobile World Congress.
Enable personalized content exploration based on users' roles, industry, and business requirements.

Develop an immersive and informative digital experience that serves both utility and seller-enablement purposes.

Transform the DG experience to prioritize high-quality lead generation and move away from a quantity-focused approach.

Create a mobile-optimized experience showcasing IBM's technological expertise in the mobile domain.
Target users
CMO
IT Executive
LOB Executive
Developers
Ideation & Process
A comprehensive understanding of the problem space is crucial in order to develop a realistic and innovative solution.
Define the strategic approach
Documentation
IBM MobileFirst Digital Strategy

---
Build up User Persona
Documentation
IBM MobileFirst User Persona


---
Stakeholders Workshop
---
Idea Mapping
---
Run Design Studio
---
Concepting
With a solid grasp of the problem space and the target users, the next step is to devise a creative solution. Defining the core components of the project or service is essential for shaping its functionality. As we uncover insights and gather findings, it becomes crucial to test and validate our ideas against user personas and scenarios.
---
Specification
IBM Design Lab adheres to an Agile design and scrum development process that emphasizes parallel design specification and solution building, with testing and iteration at its core. This approach enables efficient collaboration and ensures continuous improvement throughout the project lifecycle.
---
Prototyping
We utilize Axure to develop interactive prototypes, enabling stakeholders to gain a better sense and understanding of the solution. Additionally, we engage in user testing to gather feedback from recruited users, allowing for iterative improvements based on their insights. This user-centric approach enhances the overall design process and ensures a more refined final product.
---
QA
After production, our team diligently performs quality assurance (QA) checks to ensure the highest level of quality for every aspect of the project. This meticulous process involves thoroughly reviewing and testing all details to identify any potential issues or discrepancies. By conducting comprehensive QA, we guarantee that the final deliverable meets the highest standards and provides an exceptional user experience.
---
Homepage Iteration
---
Outcomes
#2
Google ranking
330%
Site visits increased
69%
Registration rates on homepage grew
550%
Social reach increased
29% ︎︎︎ 56%
Mobile traffic grew
550%
Social reach increased